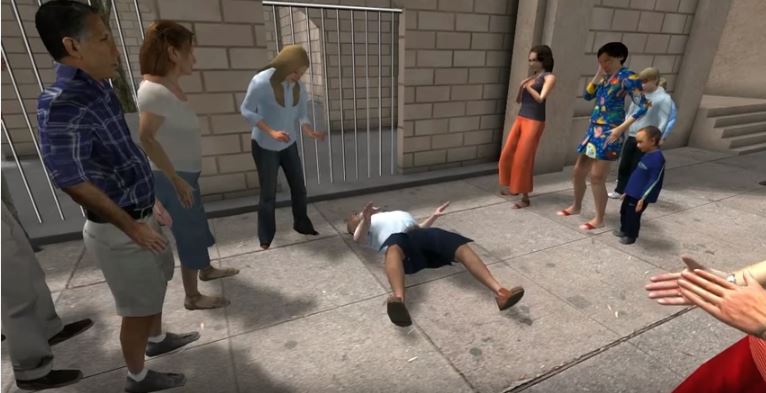 Immersive journalism – using virtual reality to put people inside a reconstruction of an event – is as close as you can get to experiencing an event without actually being there and, according to the journalist who is pioneering virtual reality as a form of journalism, it could change the way we tell the stories of those caught up in the news.
Nonny de la Peña – known as the godmother of virtual reality for her work in the medium – worked in print and broadcast before focusing in 2012 on developing VR journalism. Using a prototype Oculus Rift, she created a virtual reconstruction of a medical emergency which occurred while people were queuing at an LA food bank, to highlight the problem of poverty in America.
That piece, Hunger in Los Angeles, was the first virtual reality film ever made. It told the story of a diabetic man who collapsed from low blood sugar while queuing for food.
Since then, de la Peña has used the medium to create immersive storytelling experiences from around the world, bringing viewers directly into the action of a bombing at a Syrian market, and the 2012 killing of black teenager Trayvon Martin.
According to de la Peña these stories help people to understand how it feels to be caught up in the actual events portrayed – though the viewer knows it is a reconstruction, the emotions these immersive experiences evoke are very real.
Because of this, and because the purpose of her work is to tell the real stories of real people, journalistic integrity is central to her storytelling process.
"I have to be very cautious about creating these pieces," she said. "I have to really follow best journalistic practices and make sure that these powerful stories are built with integrity. If we don't capture the material ourselves, we have to be extremely exacting about figuring out the provenance, and where did this stuff come from, and is it authentic?"
She discussed her work in virtual reality journalism in a recent TED talk.