Most online publishers rely on advertising for at least part of their revenue, but the model we use now is fundamentally broken. Declining returns on ad inventory have seen websites use more intrusive ad units in an attempt to maximise their revenue.
I don't use adblockers because I understand the need to monetise, particularly for news sites, but more and more websites are using interruptive pop-ups and annoying autoplay videos which, frankly, make me less likely to visit in future.
A lot of people do use adblockers, including up to 39 per cent of Irish web users, and most of these are doing so in response to the decline in ad quality. Ads are not just annoying, they slow down a page because of the additional scripts that need to be loaded, and in a lot of cases they create security concerns. We may be used to our browsing habits being tracked by giants like Facebook and Google, but it's still unsettling for many. And malvertising – ads which install malware on your device as they load – are a concern for everyone.
So we install adblockers to deal with all of these issues. And of course once someone installs an a blocker, they are no longer contributing to the publisher's bottom line when they visit a site. So the publisher has to find even more intrusive ways to monetise those visitors who still view the ads in order to keep making money, and vicious circle continues.
So the big question is, how do we stop this cycle of interruption? Is there a way for publishers to make money from advertising in a way that doesn't make visitors want to install an adblocker, or leave and never return?
There might be a solution. And it's coming from a surprising source – Adblock Plus, one of the world's most popular adblockers.
Till Faida, CEO, and Caroline Louwette, business development, of Adblock Plus and parent company Eye/o, were at Dublin Tech Summit to discuss the Acceptable Ads Initiative.
The initiative is a key component of Adblock plus, which does not block ads which meet certain criteria such as placement and size.
Acceptable ads for empowered users
According to Louwette, the key to the initiative is to empower users to control what ads they see, while also supporting publishers to make money from their content.
Some websites have been able to monetize by using paywalls, but this model simply will not work for a lot of publishers because much of what they publish can be found elsewhere on the web for free.
"You are competing with a lot of free content on the web, so if you are going to charge you have to make sure you have unique content, and very high quality content," Louwette explained. "From a user perspective, you may not want to sign up with every website you visit, so it's just not a strategy that will work throughout the web."
Online advertising, on the other hand, can work in principle for everyone because the content is free, and viewing those ads is the price that users pay for also being able to view the content.
However an oversupply of ads has resulted in declining returns for publishers, who offset this by placing more ads on their sites. Frustrated, users engage less with the ads, so the price of an ad unit drops even more, and publishers then compensate by turning over even more of their online real estate to advertising.
"Intrusiveness is a big reason for using adblockers, but also privacy and security," Louwette continued. "There are scripts running in the back of a website, and users don't want their personal data bring tracked, their privacy being infringed, so an adblocker can prevent that. There is also malvertising, malicious software is downloaded without engaging with the ad, so security concerns are a very big factor and a compelling feature of adblockers for users to protect themselves.
"There are also data costs. If you surf with your mobile, you're paying cash to your mobile carrier, so you actually pay to view that ad. If you're going to load that ad, your mobile carrier is going to make more than the publisher is paid for your viewing that ad. And of course page load speed also increases."
For publishers, the implications of adblocking are huge. Worldwide, an estimated more than 200 million people now use adblocking software. Louwette pointed out that that this number is the equivalent of the population of Brazil, the sixth most populous country in the world.
Monetising users on their own terms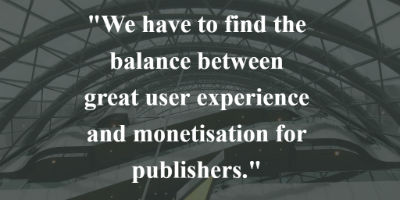 However according to Till Faida the ubiquity of adblocking presents an opportunity for publishers who, rather than focusing on the threat posed by lost revenue, can use this as an opportunity to completely rethink how online content is monetised.
"Almost everybody that installs an adblocker agrees that ads are necessary, and some ads are not that bad," he explained. "That's why we created the Acceptable Ads Initiative. We have moved from blocking all ads to a more nuanced, more constructive approach.
"Now adblockers come with an acceptable ads feature, which means they don't block all ads. They show regular ads to regular users, but users who have opted out only get shown acceptable ads because they meet certain quality criteria.
"This creates a win-win situation where users have a much cleaner browsing experience, and publishers have a way to monetize their entire audience based on their preferences, so each group of users is appropriately addressed.
"For us, it's key to empower the users so every ad they see can be switched off. Users can switch off an ad they don't like, or all the ads together. We have to find the balance between great user experience and monetisation for publishers. We have done a lot of research, including eye tracking studies, and developed a set of criteria for ads. We are now handing this over to a non-profit committee."
That committee will include representatives from all stakeholders in the initiative, including publishers, advertisers, ad tech companies, users, and consumer groups.
"We want to ensure we find the right balance and create a new ad ecosystem where fewer ads actually provide more value," he added. "Fewer higher quality ads will provide more value for publishers because if users only see 50 ads a week instead of 5,000, they have value again.
"I believe in order to be successful on the web, we can't force a business model on the consumer. The user has to be monetised on his own terms. That's why it's key we give the choice to users as to how they want to reward content creators."
That choice now comes in the form of Flattr Plus, a service which allows users to set a monthly budget for how much money they want to pay publishers they visit per month. Flattr Plus then takes this amount and distributes it among the participating publishers, based on how much the user has visited each site, and received value from it, during the month. It is currently in closed beta but will eventually be rolled out to everyone.
Flattr Plus is designed to offer a seamless payment system for people who want to reward bloggers, journalists, and other content providers, but who don't want to subscribe to every site they visit. Publishers, in turn, receive payment based on how valuable they are to the user, as determined by metrics such as the number of visits per month, time spent on site and scroll activity.
"We believe the internet is a user-determined medium, and whether you like it or not users can switch off any content they don't like," said Faida. "This creates a new challenge for publishers. That's why we want to focus on doing two things. We develop software that empowers users to configure their browser experience, and we're working with publishers to develop more user friendly, more sustainable monetisation methods.
"The current advertising model is fundamentally broken, and this is putting free journalism at risk because there is no sustainable model for advertising on the web. We feel we have a great shot at developing a much more sustainable approach."
According to Faida some 1,100 of the world's top 10,000 websites have already signed up to the Acceptable Ads Initiative, and the results so far for publishers have been promising.
"We have the numbers to support our model actually works," he said. "Everyone who works with us is making significantly more money than before."